About
Us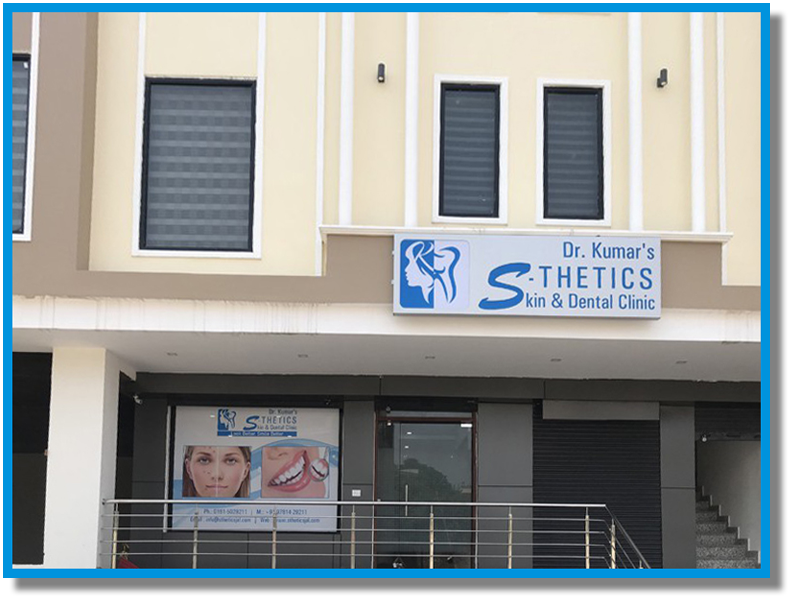 We are proud of our unique brand of gentle family care, your Skin & your Smile. By explaining your treatment choices every step of the way, we help you to make informed decisions. We treat you with honesty, compassion and respect.

Right from skin and dental disorder for kids to senior citizens, we provide "Comprehensive Care" through experienced doctors at our Clinic, located in heart of the city, Model Town. The centre is headed by Dr AS Kumar who has more than 35 years of experience of medical practice. Dr Manmohit Singh Kumar leads a team of various visiting consultant dentists (Orthodontist, Endodontist, Oral Surgeon and Periodontist); specializing in different branches of dentistry for providing the best treatment. Dr Tarunveer Singh Kumar leads the dermatology wing of this centre and has vast experience of dermatological procedures.

We offer Orthodontic treatment, Dental Implants Root Canal Treatment (RCT), Bleaching(Tooth Whitening), Gum and Bone surgery, Wisdom Teeth Removal, Paediatric Dentistry and a lot more. We are committed towards providing unparalleled services and we strictly abide with international norms on sterilization and dental treatment delivery.

Our skin clinic provides not only aesthetic treatments but also treatments for skin diseases. With our wide spectrum of cosmetic technologies and treatments, we provide you with personalized attention to all your skin and beauty needs.

With the latest, USFDA approved and most effective lasers, technologies and science, we can give you Quick and long-lasting results for all your skin and hair issues.

We believe in long-term solutions, not short-term fixes. Our approach is to design a 360-degree customized solution that include basic skin care, diet and programs so that you can have natural beauty from the inside out for your lifetime. We use of "Gold Standard" technology for each and every procedure we provide, for every type of skin. Our Dermatology section is committed to offer quality care in a very warm & friendly environment. All our treatments are performed under the strict guidance of Doctor, and are conducted thoroughly licensed, trained and certified medical and aesthetic personnel.

Our ideology is Prevention "Not Just Cure" to help people understand how simple steps carried out daily can prevent major dental diseases. Even simplest of habits such as brushing and flossing can make a huge difference in your dental and overall health. Applying Sunscreen daily can prevent many skin diseases. Successfully helping people to prevent dental and skin diseases as well as curing them with the best of treatments across the globe, we take pride in spreading smiles to millions of patients.

Our aim is the pursuit of excellence in providing the best advanced skin treatment and to deliver diverse skin services with 100% satisfaction by setting higher standards for ourselves and striving constantly to achieve them.

Dr. Tarun Sehgal heads the Diabetic & General OPD. He is a Family Physician, Diabetologist and General Physician and has an experience of 14 years in these fields.