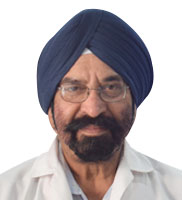 Dr. A.S. Singh Kumar

M.D., P.C.M.S. (Ex)
Skin, V.D. & Allergy Specialist
Formerly Skin Specialist
Civil Hospital, Jal.
Medical College, Asr.


Dr A.S. Kumar joined MBBS at Govt Medical College, Amritsar in 1965. After completing his MBBS in 1970, he worked for few years as Medical Officer in Civil Hospital, Jalandhar. He did his MD in from Govt Medical College, Amritsar in 1981.

He worked as a Dermatologist in Medical College, Amritsar and Civil Hospital, Jalandhar.

He then started his own private practice at Milap Chowk, Jalandhar and has been practicing there for more than 35 years. He is one of the most renowned dermatologist in Jalandhar.

He is an active Life Member of Indian Association of Dermatology, Venereology and Leprology.

He has participated in various conferences and workshops.

He has also been awarded ACE in Dermatology by John Hopkins School of Medicine, UK.

He has been awarded and felicitated at many functions for his long time work in his respective field.

Currently he is practicing at Milap Chowk and is Managing Director of Dr. Kumar's S-Thetics, Model Town.