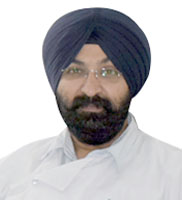 Dr. Manmohit Singh Kumar
BDS; MDS
Prosthodontist.


Dr. Manmohit Singh Kumar is BDS alumni from BIDSH (Patna) and MDS alumni from SPDC (Wardha).

He has been the teaching faculty for both Dental and Post Graduate studies in the field of Prosthodontics in various renowned Dental Colleges with keen interest in restoring the dental health and esthetics of the patients.

He has actively participated in various Conventions & Conferences at both State and National level and has presented table clinics, posters and papers. He has also got numerous articles published in his name.

He is Consultant Prosthodontist at NIT Jalandhar and various dental clinics in and around Jalandhar. He is also the Clinical Director for Special Olympics Bharat.